W.C. Bradley Real Estate: Riverfront Place Development Announcement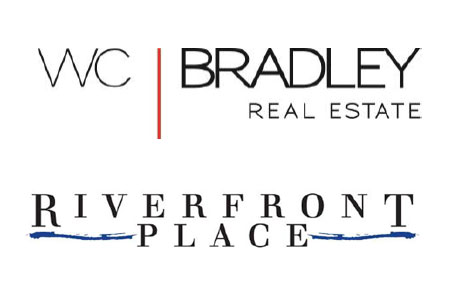 COLUMBUS, GA, March 15, 2022 - The second largest city in Georgia, announces the largest real estate development in Uptown Columbus's history.
"The W.C. Bradley Co. is proud to announce the final two phases of our Riverfront Place development which currently includes The Rapids luxury apartment complex, Mathews D. Swift Park, and Hotel Indigo Columbus®. When completed this development will represent an over $250 million investment in Uptown. Throughout the Company's over 135-year history, we have continually looked for opportunities to make a positive impact in our community and believe that this project will provide long-lasting economic benefit to our growing city," said Jim Hillenbrand, W.C. Bradley Co.'s President and Chief Executive Officer.
Located in the heart of Uptown, Columbus and steps away from the 22-mile-long Chattahoochee River Walk and Banks Food Hall, the final phases of this multi-year, mixed-used development will include approximately 1.1 million square feet located on the east side of Front Avenue between 13th and 14th Streets.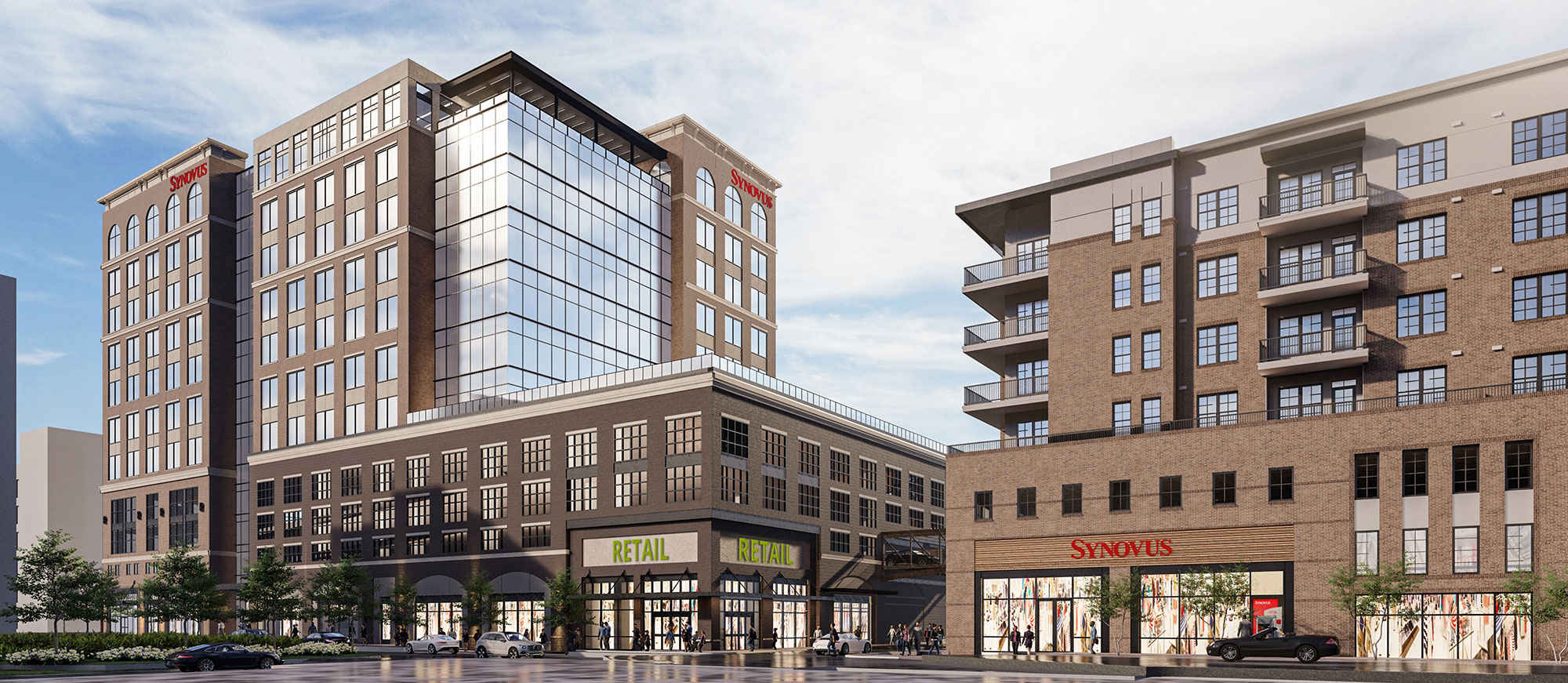 Leading the final two phases of Riverfront Place is a 230,000 square foot Class-A office building. This office at Riverfront Place will become the new home of Synovus Financial Corp.'s corporate headquarters and will be officially named Riverfront Center. Riverfront Center will feature 14 floors of office, retail and parking that includes a lobby café, rooftop terrace garden and full fitness center.
"We are thrilled to announce the new Riverfront Place development as the future Columbus headquarters for our company," said Kevin Blair, Synovus President and Chief Executive Officer. "When we announced last fall the sale of our Uptown Center complex to the Columbus Consolidated Government, we committed to remain a strong presence in the vibrant downtown hub. The eventual consolidation of our nine uptown locations into this new space plus our existing Riverfront Building at 33 11th Street will bring greater workspace efficiency and synergy for our Columbus-based team members and state-of-the-art branch banking to our clients. We are grateful to the W.C. Bradley Co. for the transformational and economically beneficial development work they continue to do on behalf of our community."
"The W.C. Bradley Co. and Synovus have both demonstrated long-term commitments to strengthen our community," said Pace Halter, W.C. Bradley Real Estate President and Chief Operating Officer. "We were proud to develop Synovus's current headquarters location in 2002, as we are excited the company will once again call a W.C. Bradley Co. development home. Having the bank renew its commitment to Uptown Columbus is a significant step in the continued growth of the City of Columbus and the overall region. The development in Columbus has been exceptional in recent years and we are confident these last two phases will continue to drive growth for the community."
In addition to the corporate headquarters, the last phase of Riverfront Place will also include a 226-unit multifamily residential community consisting of one-, two- and three-bedroom homes, amenities including, a garden-style pool, putting green, hammock park, 24 hour fitness center, club room including private offices and conference room for remote working residents, a large outdoor courtyard, community wi-fi, a bike storage and repair shop and a dog spa; in addition to a state-of-the-art Synovus Branch; a 1,150-car parking structure; and 40,000 square feet of street-level retail space along Front Avenue and Broadway.
Site work began in October 2021 with a targeted completion date of early-to-mid 2024.
About W.C. Bradley Co.:
The W.C. Bradley Co. founded in 1885, is a privately held company headquartered in Columbus, Georgia. Today, the W.C. Bradley Co. is a global diversified holding company providing multi-branded, innovative, high-quality consumer goods and services focused primarily on the home and outdoor recreation markets with locations in the United States, Canada, Europe, and China. It is comprised of Badlands Gear Co. (Sandy, Utah), Char-Broil, LLC (Columbus, Georgia); Lamplight Farms Inc., home of Tiki® Brand (Menomonee Falls, Wisconsin); and W.C. Bradley Co. Real Estate (Columbus, Georgia). For more information, visit wcbradley.com or follow us @wcbradleyco on Facebook, Instagram and LinkedIn.
About W.C. Bradley Co. Real Estate:
W.C. Bradley Co. Real Estate has been the leader of real estate development in the Columbus, Georgia area for over 50 years. In recent years, the Real Estate group has played a tremendous role in the transformation of Uptown Columbus, Georgia. Notable projects include the Synovus Centre building, Riverfront building, Eagle & Phenix Mills, The Rapids at Riverfront Place, and its newest development of Hotel Indigo Columbus®. Additional plans are underway for further development in Uptown Columbus, Georgia; Phenix City, Alabama; and Charlotte, North Carolina.
About Synovus Financial Corp.:
Synovus Financial Corp. is a financial services company based in Columbus, Georgia, with approximately $57 billion in assets. Synovus provides commercial and retail banking and a full suite of specialized products and services, including private banking, treasury management, wealth management, mortgage services, premium finance, asset-based lending, structured lending, and international banking through 277 branches in Georgia, Alabama, South Carolina, Florida, and Tennessee. Synovus is a Great Place to Work-Certified Company and is on the web at synovus.com, and on Twitter, Facebook, LinkedIn, and Instagram.
---
Contacts:
Pace Halter
President & Chief Operating Officer
W.C. Bradley Co. Real Estate
phalter@wcbradley.com
706-571-6085
Kaitlin Moore
Marketing Coordinator
W.C. Bradley Real Estate
kmoore@wcbradley.com
706-829-4042